YakTrak. Your path
to performance.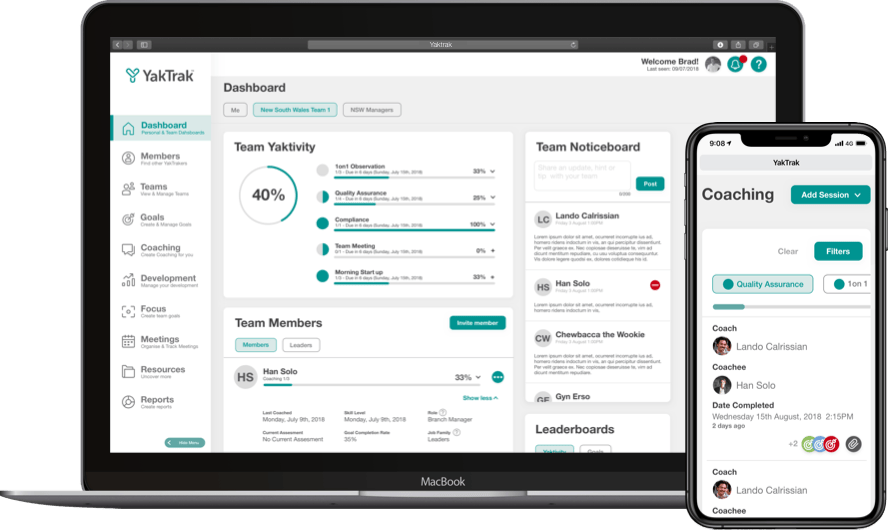 YakTrak. Your path to performance.
Wrangling all the information you need to build capability can be a wild and woolly task. So it's ironic that your greatest ally could be a Yak. An ever-evolving ecosystem, YakTrak delivers the insight you need to power the development of your people. Create your own unique path to performance, one step at a time. It's time to get on track with the Yak.
---
Improve the visibility and accountability of your team's interactions
YakTrak is a tactical people development system that logs coaching conversations, development plans and manages compliance workflows.
YakTrak gives you powerful insight into the quality and quantity of employee coaching conversations to help safeguard against conduct risk breaches – while improving the people development experience for your team.
79% of users found
YakTrak holds them and
their team more accountable.
85% of users agree
YakTrak leads to an
improvement in results.
87% of leaders have
found YakTrak keeps
them more focussed on
developing their team.
The YakTrak System has clearly improved both the frequency and quality of our coaching. Without YakTrak we would not have moved the dial as far as we did with NPS and improve the quality of the conversations our agents are now having with customers. YakTrak is now across over 1500 agents across retail and the teams are loving the way it's working for the development of our people!
We needed to make a cultural shift to move away from measuring output to a behavioural approach. If the regulators came to us and said "show us your coaching evidence" we would be able to pull it out of YakTrak. YakTrak helped us build risk awareness. Everyone was up and running on YakTrak really quickly and they could learn it themselves, YakTrak is very intuitive. The feedback was overwhelming compared to other software we have had. It was a hands down winner.
YakTrak was a clear standout against other technology solutions due to its out of box functionality and intuitive design which made it incredibly easy to embed and form apart of our frontlines daily routine. The visibility that YakTrak provides us provides an insightful overview of the adherence and quality of our coaching and development cadence. After introducing YakTrak we have found the commitment to the operating cadence had significantly lifted largely due to the simplicity in tracking the cadence, but also the visibility creates accountability to deliver consistent quality coaching.