The visibility creates accountability to deliver consistent quality coaching.
Sean Francis, EnergyAustralia
Increase performance while reducing risk: compliance management software
Compliance management is important. Customer expectations and more demanding regulatory requirements mean you need a detailed view over the conversations your people are having with customers. You need to coach for the right behaviours and have the processes in place to remediate any breaches.
YakTrak increases compliance visibility and improves risk management by supporting regular observation and coaching coupled with conduct workflows and audit trails. If a breach occurs, you will know what happened, why it happened and the remediation that has occurred to mitigate it happening again.
Create your own path to performance with YakTrak.
Ready to give YakTrak a go?
Get in touch and we'll show you around
Minimise risk in your business
Protect your organisation and mitigate risk 
Monitor risk behaviours and track your organisation's outcomes against the conduct risk and compliance criteria that you define
Obtain superior insights over the regulatory-based interactions your frontline is having with leaders and customers every day
Track the data that matters to see patterns and trends
Provide compliance team members with a platform that allows them to observe customer interactions and report on issues to inform training interventions
Understand risk volume details and key conduct categories
Give executives and directors the insights into breakdown reporting and trends over time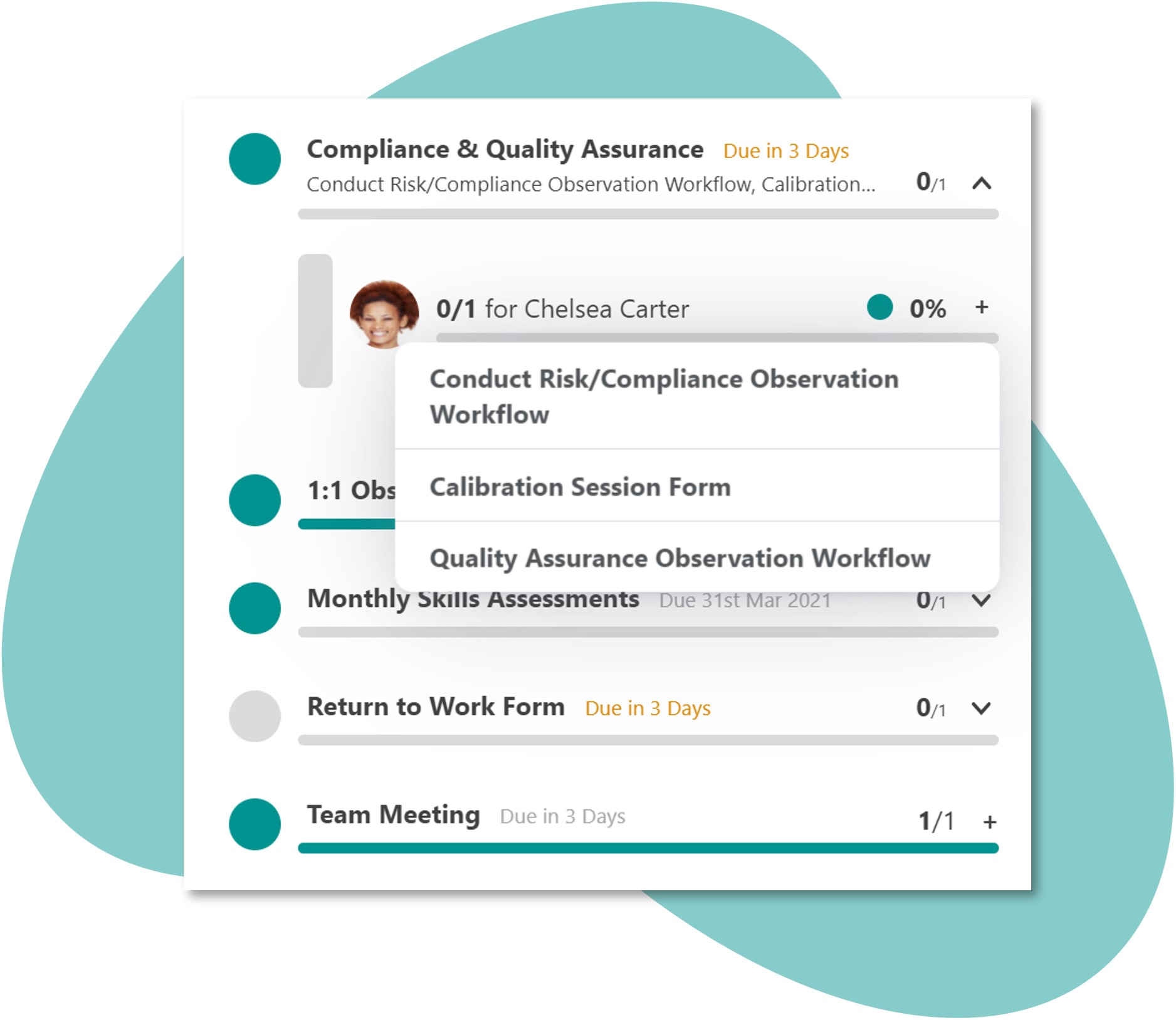 Support compliance and remediation outcomes
Despite the best system, sometimes people make mistakes
Improve team member observation cadence and tracking
Easily flag issues and develop staff with coaching remediation to manage conduct breaches
Monitor the remediation coaching and development that occurs with your people
Track behavioural outputs and remediation activities
Gain regulatory oversight and an audit trail of what your organisation does to coach breaches
YakTrak's workflows can align with your organisation's processes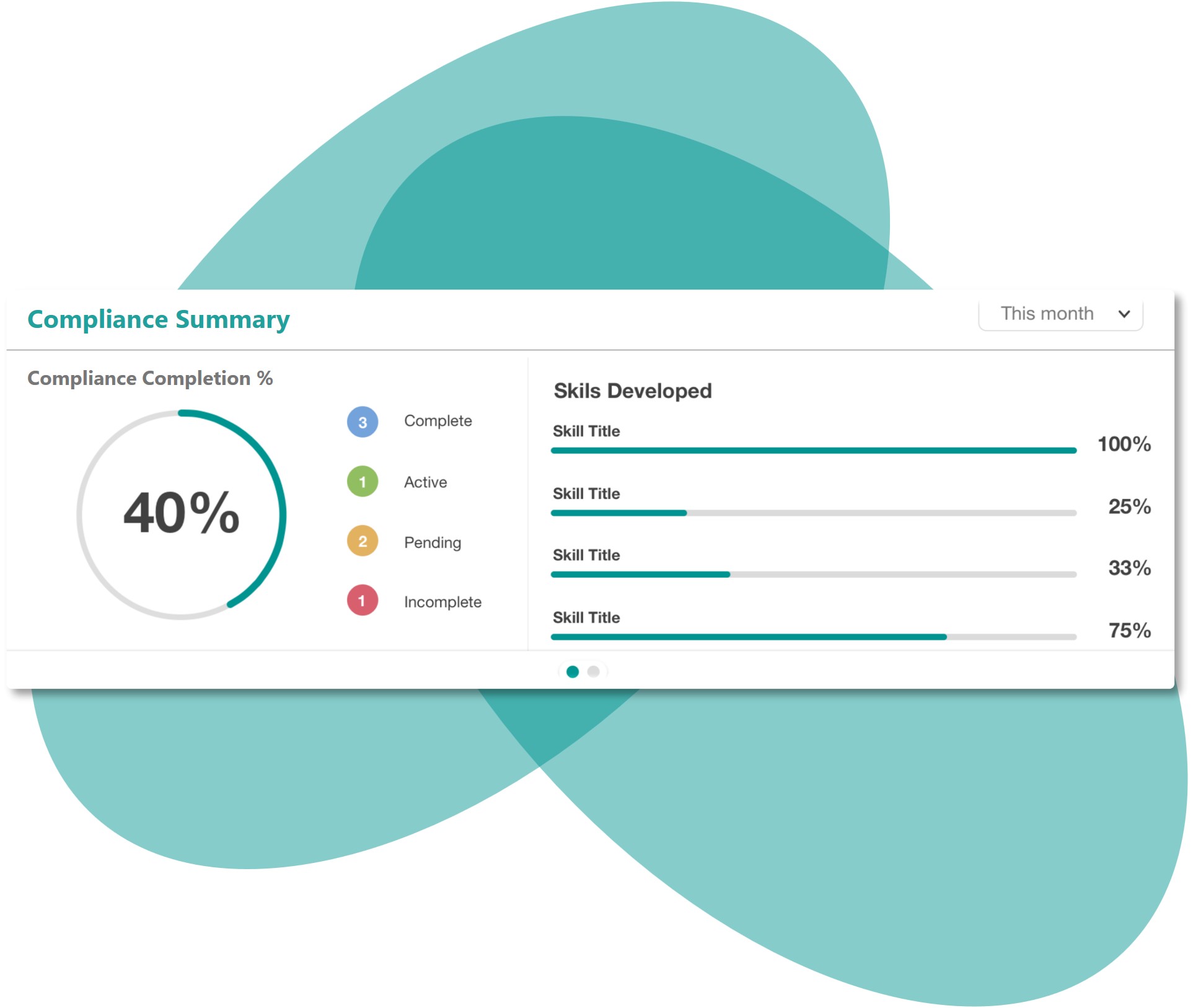 Improve compliance with a solution that lifts capability
Develop the culture you want while getting the checks and balances you need
Get an overview of how leaders and team members are progressing with development
Monitor and document coaching conversations and schedule follow-up actions easily
Set and track goals to improve capability
Schedule regular conversations between manager and team members so development is embedded into the work experience
Encourage regular coaching conversations so people are clear about what they are expected to do, and have the support they need to succeed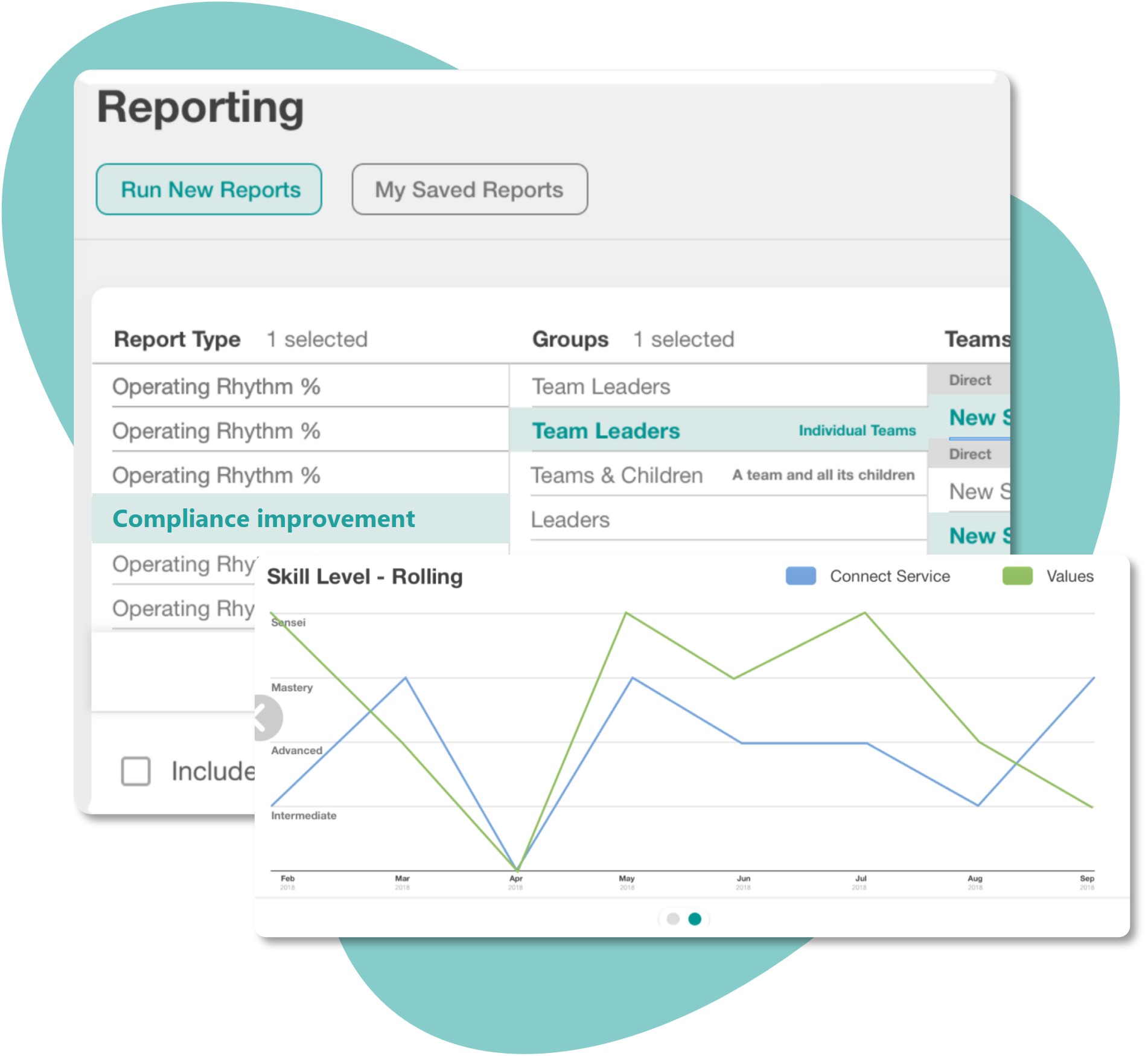 Gain confidence with YakTrak's compliance management system
Set your business up with a powerful management tool
Customise workflows that can be easily integrated into your workplace processes
Easily access evidence of coaching and customer remediation
Quickly see the audit trails and workflows that are important to you
Get real-time insights and compliance, risk and people development reporting
Gain a risk management tool that provides clarity over the behaviours that require developing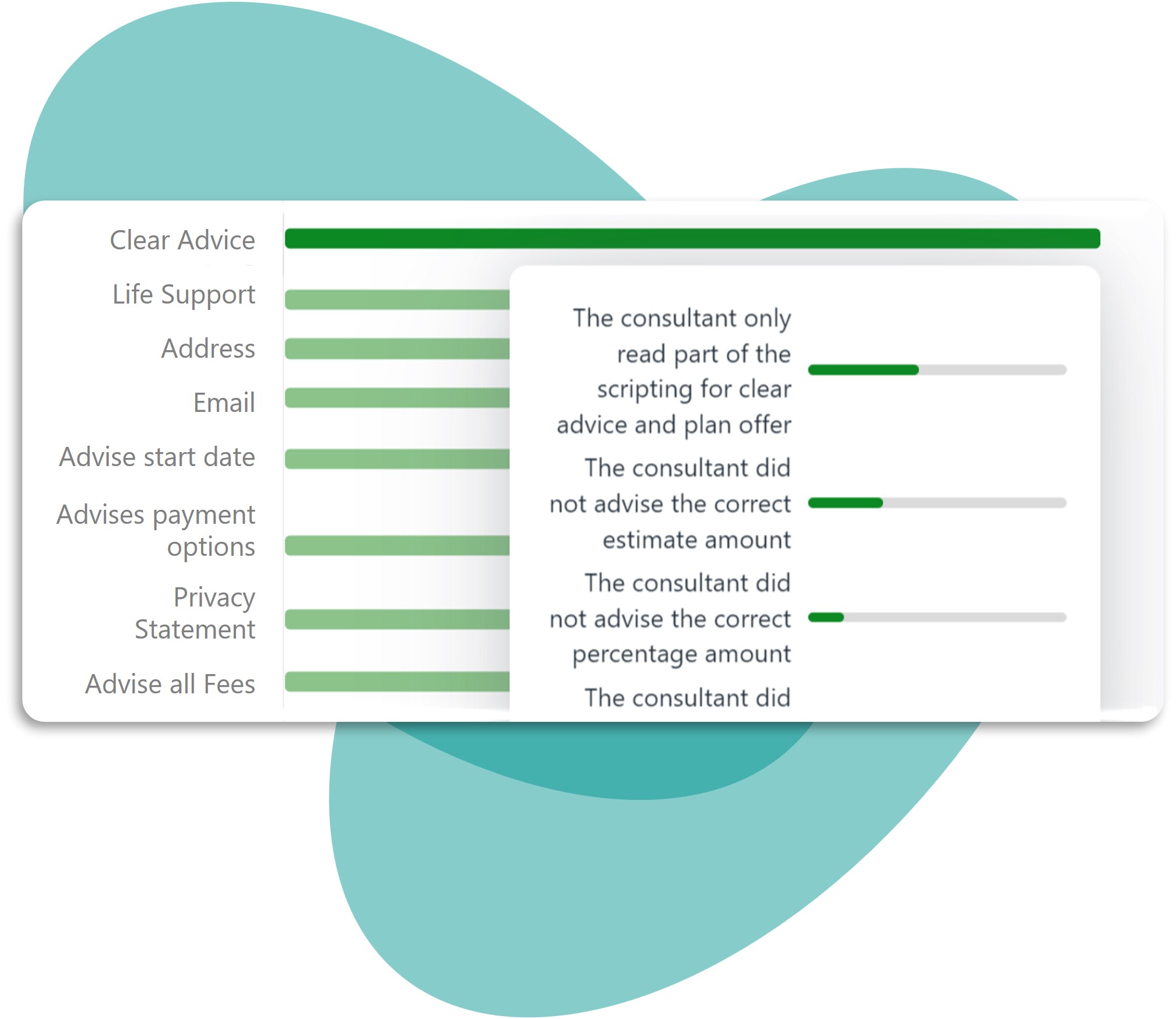 Make compliance and data easy
YakTrak is easy to use and integrate
Get up and running quickly
Streamlined onboarding process with WalkMe
Optimised for mobile teams, phones and tablets
Built-in accessibility for diverse workplaces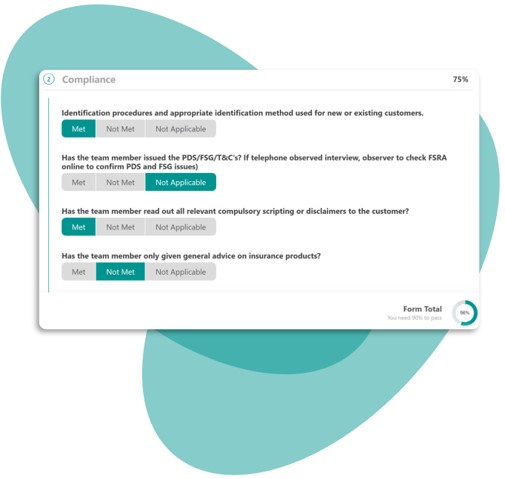 YakTrak's software isn't like other compliance management platforms
A powerful compliance management platform that gives executives powerful oversight
Risk management and performance management functions in the one solution
Customised dashboards to provide important and daily insights
Innovative UI supports daily usage
APIs to support your integration needs
Grows with your company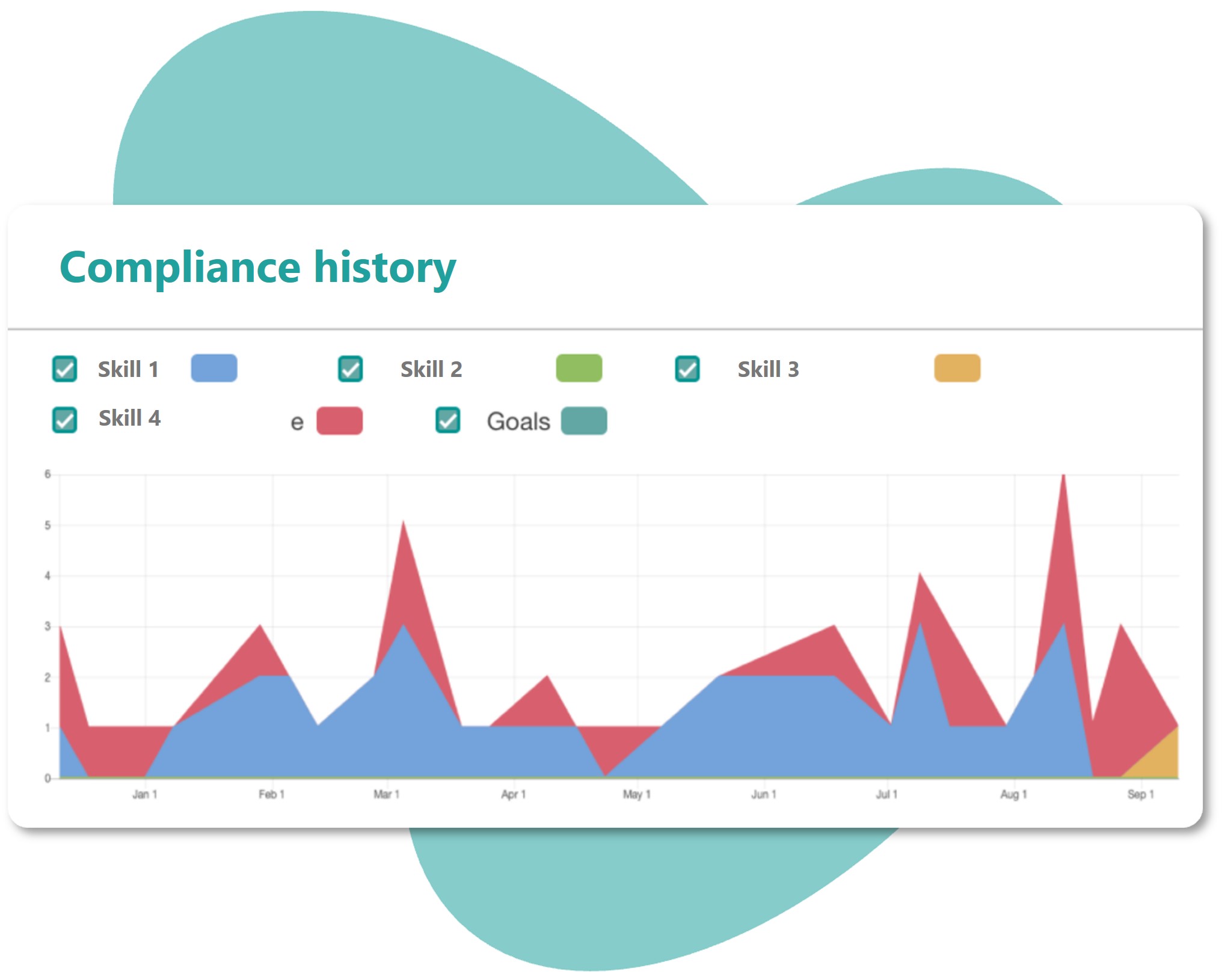 Ready to give YakTrak a go?
Get in touch with us today
Why we're different to other management platforms
We make it easy to implement, integrate and maintain YakTrak. We work with enterprise management teams to ensure we are providing the right functionality that enables reporting on conduct and performance daily, in real time, all the way to senior management and the board of directors.
Customisable workflows to manage conduct risk
Evidence of remediation through employee coaching
Customer service remediation evidence
Powerful reporting capability to drive results and meet regulator's requests
Committed to security and protecting sensitive data
Watch how YakTrak's compliance workflow and audit trail works.
What YakTrak customers say
In a survey of YakTrak's clients across the energy and insurance industries, users were overwhelmingly positive about their experience using YakTrak's management software:
4% found YakTrak easy to use
2% said YakTrak had made their role easier
Read case studies to find out more about the ways we've helped our clients.
FAQs
What is compliance?

Compliance is a sub-set of enterprise risk management and forms part of GRC (governance, risk management and compliance).

Enterprise risk management (ERM) is the process of managing all the risks that might threaten an enterprise or large organisation's success or security. Compliance includes the subsets of conduct risk and OHS compliance (otherwise known as occupational health and safety). Although it differs by industry and location, some of the other subsets to watch for include:

Environmental
Product quality
Financial
Technology

It means operating safely within the regulatory framework of your organisation and industry, to avoid the threat of fines and/or reputational damage, but also because it's the right thing to do. YakTrak helps companies identify and manage these dangers.

Why is compliance management important?

Customers using your product or services expect your business to have appropriate regulatory oversight of your managers, staff and processes along with security control measures for key data (including customer information). Compliance management helps your meet regulatory requirements. It manages the dangers associated with staff conduct, introducing the necessary control and actions you need to take.

There is a strong appetite in Australian enterprises and government departments for transparency and audit trails, as well as coaching for appropriate behaviours.

Regulators in Australia are particularly interested in seeing the key origins of conduct failures such as:

sales and service frameworks
conversations had with customers
product disclosures
how complaints and remediation are handled.

Regulators also want your reports on these interactions.

Why have compliance requirements amplified?

Royal commissions, stronger regulatory oversight, the threat of penalties and reputational damage mean that corporations have never had to be more accountable for the conduct of their people.

Commissioner Kenneth Hayne noted in his final report into Misconduct in the Banking, Superannuation and Financial Services Industry, that organisations needed to improve compliance management, along with management of conduct, regulatory, and operational risk.

How do compliance management software systems work?

Compliance management systems (sometimes referred to as a CMS) enable you to integrate and automate compliance frameworks, procedures and tasks. A CMS project is usually implemented by senior management under an established risk management framework to meet regulatory and legal obligations.  A CMS should be integrated across a range of staff functions.

CMS teams oversee the solutions which are used by front line teams through to management.

When looking at solutions what should I look for?

A good CMS will help to ensure that your company is operating within regulations. When looking at solutions you should consider how they can minimise risks, support remediation and report on breaches:

Catching breaches before they happen – when you have visibility into frontline interactions with customers you can see any over-steps or missteps, so team management can intervene and follow up directly with an employee for isolated incidents.

YakTrak's ability to provide end-to-end observation helps to monitor and report on the regulatory-based interactions that team members have every day.

Identifying trends – solutions that track observations of all the conversations that team members have with customers can help to identify patterns of behaviour that require a larger program of development to be implemented. Having a solution that allows compliance management teams to observe these behaviours is crucial.

YakTrak helps to observe patterns of behaviour and identify trends before they become problems.

Supporting remediation – having a process to effectively engage with team members when they make mistakes, alongside targeted coaching and training that focuses on remediation, will mean that you can prevent future problems while retaining staff and building capability.

YakTrak's ability to set targeted goals supported by an operating cadence and observation leads to effective outcomes that change behaviours.

Facilitating reporting – CMS solutions should record the data required to report to senior management, the board of directors and regulatory bodies. Real-time reports mean data can be provided to relevant stakeholders with ease and audit trail capability can provide proof of remediation to regulatory bodies. Functionality should include breakdowns by volume and category, trend information, and capture activities that were taken such as training, customer remediation and coaching.

YakTrak's customised dashboards provide powerful reporting capabilities with workflows designed to track end-to-end compliance and conduct risk activities.

YakTrak provides the directors, leaders and teams with real-time insights into the conduct of employees, how this compares to what should be done and the tools to close the gaps, along with powerful audit trails and workflows that can be easily provided to regulators.

How does YakTrak help corporations in highly regulated industries achieve good compliance management?

YakTrak helps corporations manage conduct risk and improve business outcomes by providing unique oversight into the conduct of their people. It provides audit trails for regulators and makes it easy to track remediation of breaches.

YakTrak assists enterprises to monitor and report on the regulatory-based interactions that team members have with their people and/or customers every day. YakTrak also supports end-to-end observation, tracking data and flagging the need for remediation and coaching

YakTrak can be rolled out across all your services. It can record all the development that employees undertake as part of governance requirements, as well as employee engagement, coaching, and conversation tracking that can help to improve business outcomes.

YakTrak ensures that success can be delivered safely by maximising outputs. After all, people feel better when they improve at what they do. YakTrak helps people learn and develop where it happens most – on the job.

What are the industries that benefit from compliance management platforms?

While all industries should have appropriate structures and processes in place to monitor and review their compliance, some areas have greater regulatory requirements, such as finance, banking, insurance, energy, superannuation, aged care, telecommunications, health and government. Organisations in these sectors are looking for a solution that gives management access to the necessary data, coaching and actions that are key to effective compliance management.

What are the dangers of not using a compliance platform?

The right compliance management software can help minimise threats.

While rogue trader Nick Leeson of Barings Bank is one of the most infamous examples of what can go wrong without proper regulatory structures in place, there are a range of smaller daily threats that can be caught by software:

A call centre team member tells a customer the wrong interest rate on a mortgage product
A retail banking team member provides advice outside of their authorisation level (e.g., personal advice rather than general advice)
Personal customer data is stored inappropriately in a database
An employee prioritises their own self-interest over the needs of a customer
A customer is sold an inappropriate insurance product they are ineligible to claim for

Ensure that you and your management teams are meeting legal obligations and client expectations by using a dashboardthat delivers the insights to reduce dangers.

How do I deliver results safely in a regulated environment?

Outcomes can be delivered safely with applications that provide oversight of leadership activities, visibility of staff performance, and track specific remediation of conduct risk breaches.

How can continual development improve compliance?

YakTrak's founders have seen that companies that promote on-the-job continual development are more agile, less exposed to compliance problems and deliver better long-term outcomes.

They knew that if YakTrak could provide businesses with a better compliance management solution that supports coaching and people development, businesses would see improved compliance and outcomes.

How can the organisation's culture promote compliance?

Company culture can play a powerful role. A company that celebrates values of integrity and business ethics tends to embed positive behaviours that help promote compliance.

This can be done by embedding the business's values and ethical standards in the employee onboarding processes. For this reason, it's good practice to hire for character as well as capability.

Senior leaders should set the tone, while frontline and middle managers 'walk the talk' by turning principles into practice. Your organisational culture should encourage all team members to feel comfortable to come forward with concerns.

Ensure that everyone is kept accountable. Good behaviour should be rewarded while bad behaviour must have consequences. Issues should be administered fairly and dealt with equitably. Team members want to see the rule of law being followed and feel confident that the organisation and other team members are delivering on their expected behaviours.

The right platform can help develop the positive culture you want while also providing the checks and balances you require.

What is YakTrak?

YakTrak is a SaaS people development system that increases speed to competency and identifies and mitigates conduct risk. YakTrak provides companies with unique, real-time insights into the behaviours of their people and provides the tools to improve outcomes.

YakTrak lifts capability, maximises performance and minimises the danger of compliance breaches by supporting a culture of continual learning and on-the-job coaching.

YakTrak supports management by providing visibility and insights over the conduct of people in an organisation. When using YakTrak team leaders and management can create workflows that mitigate conduct risk while remediation can occur through effective coaching of people.

How does YakTrak's compliance workflow work?

An example of YakTrak's 9-step workflow:

Key compliance elements that employees are required to demonstrate are defined
Compliance elements are built into an observation workflow in YakTrak
Compliance team members review staff member interactions with customers and report outcomes in YakTrak
If a risk is identified, the workflow document is sent to the desired groups or users within YakTrak for follow-up
The document provides detail to the employee's team leader of the issue identified and coaching required
The team leader coaches the employee and tracks the outcome in the YakTrak workflow
The document alerts the customer remediation team (if required) to contact the customer with the correct information and record the outcome in YakTrak
The document alerts the governance team (if required) to report to the regulatory body and record the outcome in YakTrak
The originating compliance team keeps track of all interactions using their own status dashboard that monitors all 'open' risks identified

How do we support data safety and security in the cloud?

We have safeguards in place to ensure the security of your sensitive data within YakTrak.

All data is kept in Australian-based data centres
There is no requirement for local installation nor private hosting, because YakTrak is a cloud-based application
YakTrak's data leakage prevention (DLP) control system within its software stops users from entering confidential data into YakTrak's free text fields, and alerts the user if data entered is in breach of the controls

YakTrak obtained ISO 27001 accreditation in 2021. This internationally recognised standard for information security management systems acknowledges YakTrak's commitment to the highest level of security and best practice.
Book a demo today
Ready to see how YakTrak can support your compliance management?