What a year… again

By Brad Thomas
Well gee wilickers! I haven't used that term in a long time, but I think the year we just had calls for it. At this time last year, we toasted to what would surely be a better, easier, healthier year. What a fizzer that turned out to be
However, it goes without saying that it's worth looking at the positives. At YakTrak the wheels kept on turning: our customers remained well serviced, our team stayed healthy, and our product grew with many more new features and flexibility for those wanting to drive a people development culture.
So, what did we achieve? Aside from onboarding some great new clients, we got the opportunity to talk to new prospects around the world. Every conversation we have provides brilliant insight and input into new YakTrak features. This year we:
Continued to improve our form builder flexibility and introduced new client use cases
Added a new feature allowing forms and documents to be assigned to users and be tracked via workflows such as 'Return to Work' and other HR forms
Created new capability for bespoke dashboards
Upgraded our entire platform to improve speed and future capability
The team have done an amazing job this year and I couldn't be prouder of every single one of them and all they have achieved.
On a more personal note, my family's (as with most in Victoria) resilience and patience was tested once again. Our two children were home schooled for most of the year and although difficult (with only a few blips of low productivity) they just got on with it with little complaint. It was incredible to see them build new personal skills for the future right in front of our eyes. They adapted quickly, learned new ways to stay in touch with friends and to deal with change remarkably better than I did.
It was great for me to get a deeper insight into the things they were learning in school which improved our dinner table conversations significantly – but did little for my ego when I realised grade three maths was about my limit in capability.
I took the opportunity to completely remodel our house. This was as a great distraction to the mundanity of lockdowns and my wife and I learned some new skills. I now know how to pour a concrete benchtop, build a fence, construct a deck and you can ask me about refreshing a kitchen on a budget! My wife created new artworks that have featured in some of the coaching tip videos.
We even did something I swore we would never do (mostly to protect my sacred grass) …we got a puppy. Her name is Marlo. My older son had a dream that he had a husky, but that was a step too far, so we compromised on a cavoodle. And it's safe to say that she has stolen my heart. And even better, the grass is puppy pee resistant, so happy days.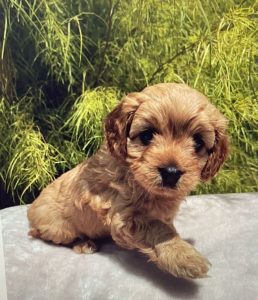 Reflecting on the year, it is easy for me to get caught up in how bad we had it, but we didn't, not really. For every family that cruised through the year with a few bumps, there were ten others who did it tough, lost jobs, couldn't work, split up, got sick, got lonely, got angry, got angry some more.
It's not lost on me how lucky I am every day to wake up to what I get to wake up to: a great family, great environment, great business, great team.
But 2021 wasn't done with us yet. Last Friday we got a Christmas surprise no one wanted. My 11-year-old tested positive to COVID-19 from a contact at school. So, our family plans are called off until further notice.
We will miss catching up with the friends we haven't seen in two years at their annual Christmas gathering. The kids will miss hanging out with their cousins on Christmas Day and the yearly family water balloon fight. We'll miss the catch ups with friends that were planned over the next two weeks. But we will do it because it is the right thing to do. Because the safety of the community, our family and our friends is our priority. We will suck it up for another two weeks. We like each other and we will make it the best darn Christmas we have ever had. By the way, my son is doing well.
So, thank you to all of you: friends, colleagues, clients and YakTrak users who made this year the best year it possibly could be. From our family to yours, have a safe and happy Christmas and New Year.
Let's toast to 2022 – it will surely be a better, easier, healthier year…won't it?
Cheers
Brad
Main image by Will Stewart via Unsplash.