Governance gaps exposed businesses and their customers to serious risk and harm.

Kenneth Hayne
Managing conduct risk with coaching and accountability
Conduct risk is 'the risk of inappropriate, unethical or unlawful behaviour on the part of an organisation's management or employees. That conduct can be caused by deliberate actions or may be inadvertent, because of inadequacies in an organisation's practices, frameworks, or education programs.'
This was the definition Greg Medcraft, as chairman of ASIC, gave in his speech to the Institute of Internal Auditors Australia.
YakTrak provides superior visibility over the conduct of your people with tools that help to mitigate risk and remediate breaches with coaching.
Overview and explainer
Watch our explainer for a definition and to see how YakTrak can support your organisation's conduct risk framework.
Ready to give YakTrak a go?
Get in touch and we'll give you a tour around YakTrak
Improve your conduct risk management
Gain superior visibility and insights into what your teams are doing
Obtain superior insights over the conversations your frontline is having with customers
Identify the key areas that require immediate coaching and development
Give executives and directors the insights into breakdown reporting and trends over time
Understand your organisation's risk volume details and key conduct categories
Accurately track behavioural outputs and remediation activities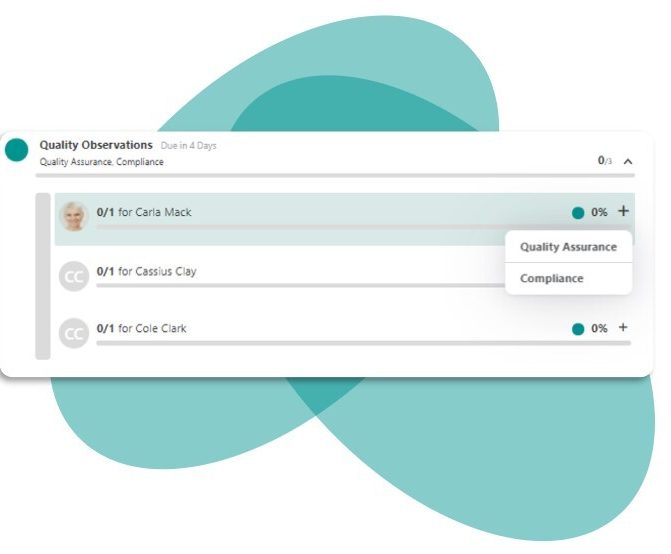 Reduce risks
Close capability gaps and improve performance
Create workflows that mitigate risk and remediate breaches with coaching
Develop a consistent rhythm for coaching to improve capability and outputs
Focus on developing the behaviours that you want to see
Track goals, measure behaviour and easily report so you can adjust and refine coaching programs to maximise outcomes
Our software services support employee coaching and customer remediation workflows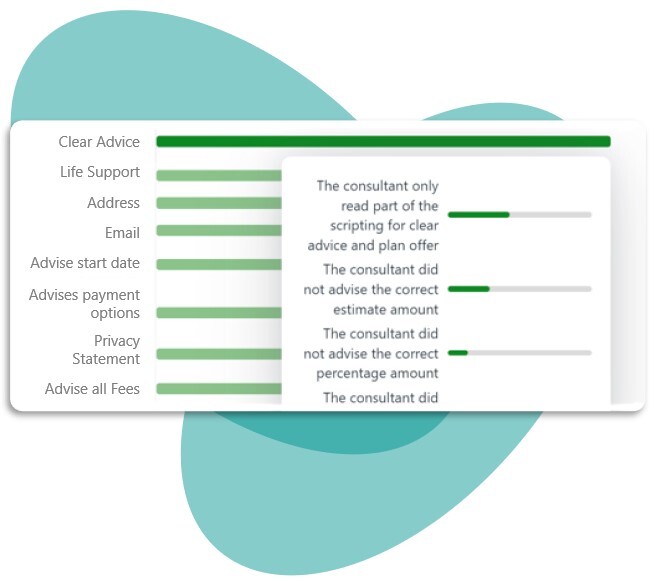 Set your business up with unique real-time reporting
Powerful software to improve outcomes in your business
Customise dashboards to understand what your teams are doing
Easily access powerful audit trails and workflows that are important to your company
Real-time reporting for regulatory compliance
Bring all development activity, forms and documentation into the one place for oversight over performance
Give executive teams the knowledge and tools to improve outcomes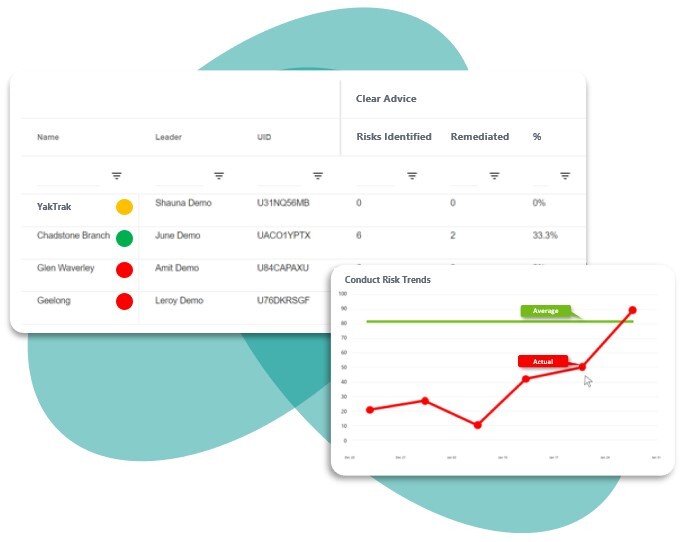 Engage your employees
Improve employee experience and your workplace culture
Lift engagement and create a collaborative culture focused on improvement
Empower people to take control of their own learning and goals
Make coaching a daily habit to lift capability and outputs
Easily integrate YakTrak with your company
Reward positive behaviours and customer interactions
Reduce attrition by providing time for leaders to coach and develop their people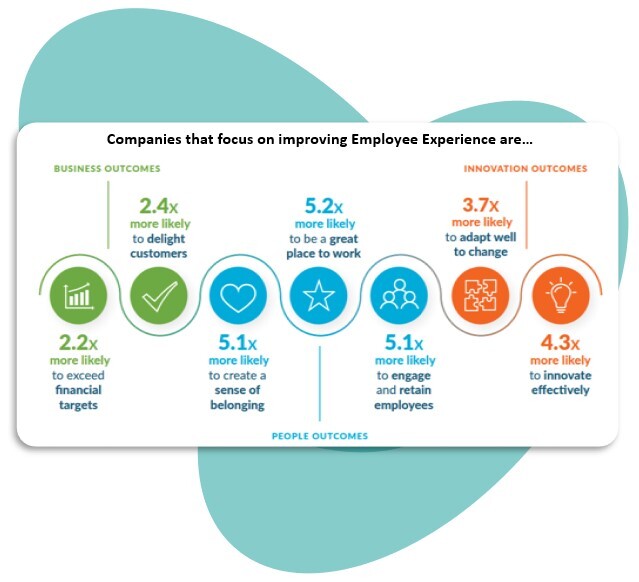 Ready to give YakTrak a go?
Get in touch and we'll give you a tour around YakTrak
Join some of Australia's best-known brands in financial, services, health and insurance industries
Legal and regulatory requirements are changing constantly. Software that evolves and changes as quickly as your firm does is imperative. YakTrak workflows require minimum time and effort to set up and maintain and our rapid ideation process means you'll get a solution quick smart.
YakTrak is the choice of large and medium companies with customer-facing employees providing:
Innovative UI that supports daily usage
A platform that's optimised for mobile, phones and tablets
APIs to support integration needs
Single sign-on (SSO) that reduces log-in fatigue
Onboarding with WalkMe to maximise adoption
Safety and security using Australian-based data centres (or international location as required)
Data Leakage Prevention (DLP) to ensure sensitive information is adequately protected
Want more information?
Book in a Yak with Brad
FAQs
What are the types of conduct risk?

It exists in almost every part of a business. Regulators are particularly interested in the key origins of conduct failures such as:

sales and service frameworks
the conversations your frontline has with customers
product disclosures
the way complaints are handled
the process for remediation
the ability to report on the entire risk ecosystem.

What types of firms benefit from a conduct risk framework?

It is essential for firms in highly regulated industries (financial services, insurance, energy, aged care, superannuation and managed funds) to be able to identify, assess, control, monitor and manage conduct risk.

There is an immediate appetite in Australian enterprises and government departments for transparency, audit trails, as well as coaching for appropriate behaviours.

Regulators in Australia are particularly interested in the key origins of conduct failures such as the sales and service frameworks and conversations had with customers, product disclosures, how complaints and remediation are handled and ability to report on these interactions.

YakTrak provide the directors, leaders, and teams with real-time insights into the conduct of employees, how this compares to what should be done and the tools to close the gaps.

What is an example of conduct risk?

The global financial crisis illustrated what can happen when employee breaches occur. Employee misconduct was a major factor contributing to the global financial crisis and many companies were subsequently fined. Boston Consulting Group has estimated that banks have paid over US$321 billion in fines since the global financial crisis.

What is the impact of government reviews and regulatory safeguards?

In Australia over the last few years, there has been increasing pressure for transparent governance, culminating in an unpreceded swath of royal commissions, reviews, recommendations, and new regulations.

Commissioner Hayne in his Final Report relating to the financial services industry asks business groups to address  a lack of capability in addressing non-financial risks.

As a result, companies are bolstering their systems, training staff, closing governance gaps and introducing measures to reduce exposing customers to harm. These measures are in line with communication expectations.

What are the main elements of conduct risk frameworks?

There are three main lines of defence: governance, risk management and compliance (GRC).

It's important that:

drivers are identified and service delivery models are based on organisational values
staff are given appropriate training and development opportunities
systems are introduced to assess, measure and monitor risks
remediation processes are developed
reporting systems are embedded.

YakTrak's solution incorporates all of our learnings and feedback working with clients over many years to help get the balance right between compliance and quality conversations.

What is a conduct risk policy?

Policies are based on values, frontline workforce culture and customer model. Components of policies include:

Identifying the drivers for certain behaviours
Developing processes for addressing and remediating breaches
Monitoring progress and outputs
Using systems to provide paper trails for audit purposes
Rewarding positive behaviours

How does YakTrak's solution leverage industry best practice?

YakTrak is a SaaS solution developed on a single line of code. That means quick, easy, and cost-effective customisation. YakTrak's services cover three crucial functions of GRC and continually evolve as we grow our user base and gather client feedback.

So, what does that mean for you? Simply, you benefit from everything that we've learned and developed with our other clients. This means YakTrak constantly stays up to date with cross-industry best practice. It's efficient for us and makes good financial sense for you and the other firms we work with by keeping costs down.

How does YakTrak support your strategy?

YakTrak tracks the goals and coaching behaviours you want to see, creating a practical way to measure and monitor behaviours, remediate where necessary and reward good behaviour.

Our advisory team works closely with enterprise business management teams to ensure we are providing the right services and the data needed to report on conduct and performance daily, in real time, all the way to senior management and the board of directors.

Dashboards provide real time reporting on risks, volume and trends over time
Audit workflows ensure records are kept for regulators and HR teams
Identification of key risks to enable targeted coaching and development
Remediation is supported through YakTrak's coaching software

Ensure your workforce is clear about what they need to do and give them the resources to succeed with YakTrak.

How does YakTrak's customised workflow work?

Let's look at an example for a contact centre with four thousand sales and service employees.

The contact centre starts by defining the risks it seeks to avoid and the behaviours it wants to see and builds them into an observation workflow in YakTrak.
An observer listens to a staff member interaction with a customer and enters the details of outcomes into YakTrak. YakTrak springs to life behind the scenes and gets to work.
The observer enters details indicating a breach.
The form is then sent to multiple users within YakTrak for further action:

the employee's leader – to advise of the event identified and coaching requirements. The team leader will then coach the employee and track the outcome in the YakTrak workflow.
the customer remediation team – who then contacts the customer with the correct information, and documents the outcome in YakTrak.
the governance team –  who will then document the contact to the regulator if required.

The observation team keeps track of all interactions using their very own status dashboard providing an overview and real time status update of all 'open' risks identified.

How can a firm use YakTrak's 'many-to-many' workflow to manage corporate risk?

YakTrak's risk management platform incorporates a 'many-to-many' workflow which means one form can be passed off to multiple areas within your organisation, or to a third party outside your organisation, for action. This provides broad oversight of key details across the business.

What are the three components of conduct risk?

Policies are based on these components:

the type of behaviour or information provided – so a particular behaviour, such as providing incorrect advice or communicating information that is outside of regulatory boundaries
the likelihood of the behaviour occurring – a high volume of events indicates a serious problem but even occasional instances are problematic and need to be addressed
the impact of the behaviour occurring – such as reputational damage, customer complaints and financial penalties.

What is the impact of company culture on corporate risk?

A key driver to influencing behaviour is culture.

Culture should be the centre of a corporate strategy. Without a culture of integrity, organisations are likely to view their compliance programs as a set of tick-the-box activities. Even worse, some firms see it as 'just another thing I have to do' or a roadblock to achieving business objectives and performance, as we have sometimes seen.

Clear values, messaging, accountability and leadership are imperative. These need to be supported by middle managers who set an example and create environments where employees are comfortable speaking up.

We have observed the negative impacts compliance measures can have on a frontline workforce and their customers. Frontline team members can often feel anger, stress, and anxiety due to their exposure to measures. They can also become fearful of making a mistake or ruining their average handling time.

The flow on effects for customers can be huge. While policies are designed to safeguard the consumer against unethical behaviour implementation of conduct risk assessments can lead to unintended consequences for customers. For example, impersonal, robotic conversations that are highly scripted may lead to customers feeling as though they are not being listened to. This can increase attrition. Other tactics such as the use of pre-recorded audio played to the customer to meet requirements, may cause customers to disengage from the conversation all together.

A balance of having truly amazing customer centric conversations with preventative measures is a challenge to get right. YakTrak can help your organisation close performance gaps by encouraging regular employee coaching and human interaction to ensure team members are supported as required.
Ready to give YakTrak a go?
Get in touch and we'll give you a tour around YakTrak